Visual jokes are the pictures that are made to convey a silent funny message. These pictures are meant to make people laugh spontaneously after looking at them at the first sight. These pictures could be related to any aspect of life. The categories are animal's pictures, pictures of blondes, celebrities, computers, cartoons, funny cars, people with fat tummy, sports pictures etc. Hence it covers all the elements of fun and pleasure.
With a charming and imaginative sense of humor artist Brock Davis is gifted with all the abilities to create artistic funny pictures which can make anyone to laugh. His personal work is based on separate categories of funny pictures usually covering the elements of edible items either cut or shaped in a way that they appear to give some message and meaning. These meanings are usually full of fun and wit. The subject though, most of the times evolve around food items yet the ideas every time are unique and captivating. Hence he has given visual jokes a complete new definition. His collection of funny pictures always depends on a single fact that every picture you go through has to appear completely hilarious in all the ways. It has to be colorful and full of life. Basically the artist wants to give an impression of beauty behind the liveliness and cheerfulness to the viewers.
Cucumber into Whale
From everyday tasks the artist plays well and create an entirely astonishing thing which can bring smile on others face. He can make simple things more interesting that's the art he is good at. One fine example is his cucumber whale. While cutting cucumber for salad the artist had this idea to cut it differently and he turned it into destroyer whale.
Broccoli Tree House
The artist got the idea to create a small tree house for his son just to please him when he demanded one. So the idea was quite simple he turned the stalk of broccoli into a tree house which is an amazing piece of art.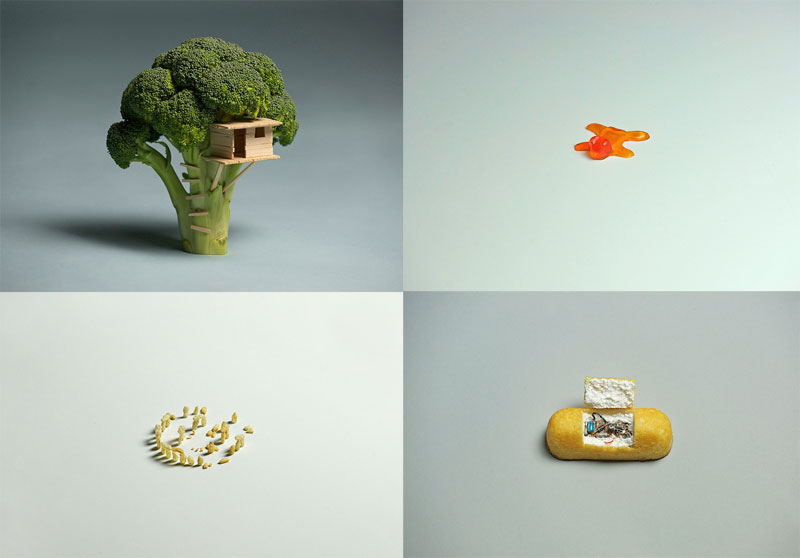 Noodles Album Cover
Using spaghetti the artist tried to highlight work of Peter Saville. He created the cover of his album on a black plate with the help of noodles. The idea was highly appreciated by all the fans.
Banana Cap
With banana peel, he made a design so fascinating that it appears like a cap. This cool idea was illustrated over night and gained much popularity among fans of visual jokes.