You are what you eat. Today's life is infested and poisoned by fast food. The level of obesity among children and adults is higher than ever, thanks to cheese burgers, French fries and carbonated drinks. It is very important for everyone to maintain a healthy and balanced diet. It not only keeps you fit, but also keeps you active and your productivity increases manifold.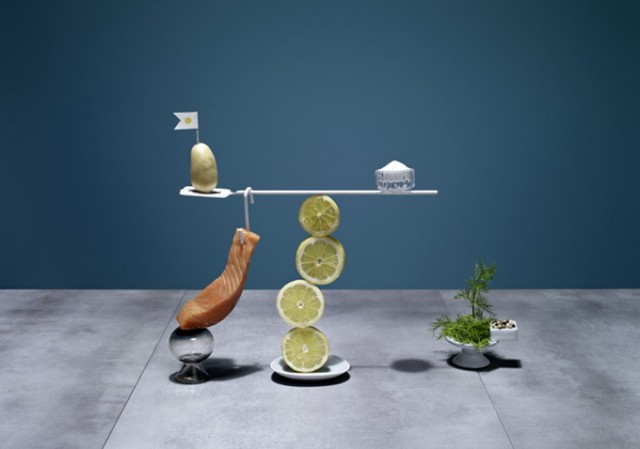 A balanced diet includes appropriate amounts of proteins, carbohydrates, vitamins and all other essential minerals. Italian artist Elena Mora has created a series of amazing sculptures made out of real food. The catch with this series is that every art piece is made in the form of a balanced scale; connoting that a balanced and healthy diet keeps your life in perfect balance.
One of the sculptures shows a diet of fish, lemons, a little salt, a potato and some veggies. As the picture indicates, it truly is a very balanced and healthy diet. Another balanced scale plays around fruits and dairies, emphasizing on milk, eggs, apples, butter and nuts. Again, this is a diet that has all the essential nutrients and keeps one fit. Then comes the balance that is tailor made for vegetarians. With cabbage, onions, carrots and peas, this is a dream diet for all you herbivores.
This series of balanced diet sculptures by Mora, called "Ricettario- A balanced diet" is not only a creative masterpiece; but is also a great diet and fitness guide. Being a fitness freak myself, I cannot stress enough to all of you to take a close look at these pictures and try to adopt the diet mix that suits you. Make sure to get some exercise daily; and along with one of these diets, you are sure to stay fit, healthy and active. Oh and yes! Stay away from junk food.