India is a land of a rich cultural heritage. The architecture of the country has many inspirations; including the ancient Indian emperors, the conquering Arab Muslims and the British raj that lasted over a century. There are many monumental temples, forts and other architectural wonders spread all across India. These structures are dream projects for photographers from around the world. However, run of the mill photographs of these historical structures is quiet common. This is why Karen Knorr decided to embellish her photography with a touch of wild life.
Knorr has always been fascinated with the Indian culture. She has captured a series of photographs of the interiors of various historical architectural structures. To add an element of uniqueness to her work, Knorr used designing software to incorporate images of various wild life animals in these pictures. The beauty of this work is that every animal added to each image gels in perfectly with the ambience; as if it were actually there during the photography. One image shows a white tiger, sitting on all fours amidst the pillars of a temple. The tiger is perfectly in sync with the white colored interior of the temple. Another picture shows a white crane, standing on one leg in front of a beautiful ancient style concrete window, with strokes of its colors complementing the crane's brown head.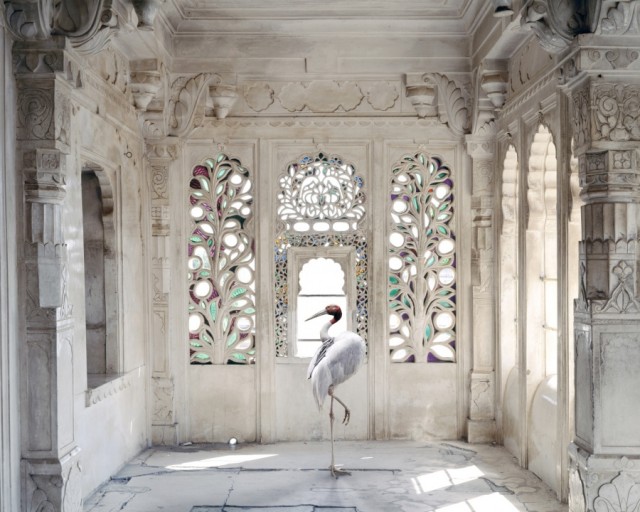 Karen Knorr has masterfully placed the animals in the pictures. At no point do the images reveal that they have been treated. Another brilliant image shows a king's throne; only the king of the jungle is resting on it. A peacock is one of nature's masterpieces. One image by Knorr shows a peacock standing in an aisle painted in a greenish blue color; once again, creating a perfect blend.
Such images are usually meant for a comical gesture. However, Karen Knorr's work has a touch of elegance and sophistication.